Tag Archives:
Family
The Gileadites captured the fords of the Jordan opposite Ephraim. And it happened when any of the fugitives of Ephraim said, "Let me cross over," the men of Gilead would say to him, "Are you an Ephraimite?" If he said, "No," then they would say to him, "Say now, 'Shibboleth.'" But he said, "Sibboleth," for he could not pronounce it correctly. Then they seized him and slew him at the fords of the Jordan. Thus there fell at that time 42,000 of Ephraim. – Judges 12:5-6 (NASB)
***
When I was six years old my family moved within six blocks of Allen Field House on the campus of the University of Kansas. I never really had a chance of being anything but a rabid fan of the Kansas Jayhawks. You can tell a Kansas basketball fan from most other fans. There is a certain amount of pride, which borders on arrogance, which seeps into any discussion of college basketball. We know our history and take pride in the history of the Kansas basketball program. And we hate Missouri. It does not matter that Missouri has left the conference and we no longer play the program to the east, we still despise Missouri. For the historical roots of this rivalry take a moment to read about Quantrill's raid and the burning of Lawrence.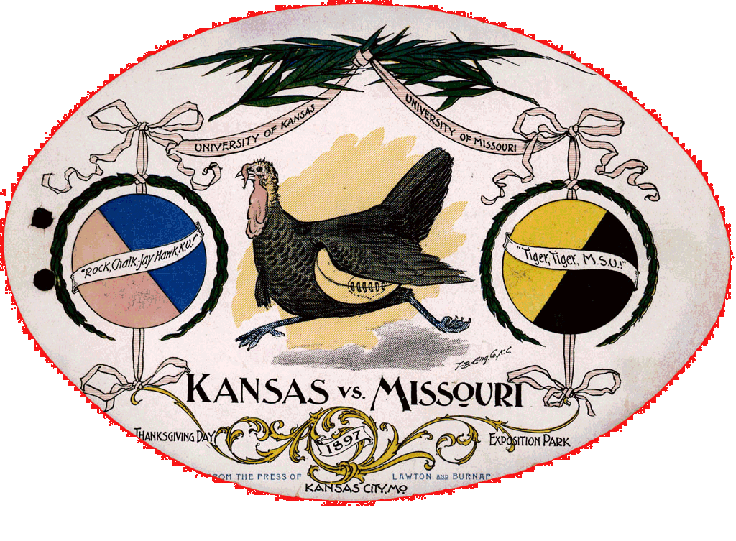 In college sports we have devised a number of systems to make sure we can separate the strangers rooting for "our" team from the strangers rooting for "their" team. Kansas fans wear blue and red, Missouri fans wear yellow and black. Kansas fans rally around our Jayhawk mascot; Missouri fans rally around their tiger. Kansas fans chant "Rock Chalk" in the closing minutes each home victory; Missouri fans have little experience in celebrating the closing minutes of a home victory. We have developed systems to know who is on our side. Whenever I see a Kansas hat or shirt at the gas station or at work, I stop and make a positive comment to my fellow Jayhawk fan.
People are very good at spotting outsiders. There is something in our brains which cause us to make a nearly instantaneous decision that a person is "one of us" or "one of them". This tendency is not limited to our college basketball affinities. In fact this tendency has a very dark side and has been a plague on humanity resulting in genocide, holocaust, enslavement, discrimination, and all sorts of evil.
Our first instinct should not be to look for an outward sign to know if a new person is to be included or excluded. Rather, our first instinct should be to care for the stranger and meet their needs regardless of their affiliation. It does not matter if the stranger I meet is a part of a different group. The thing that matters is that we were both formed by our creator and placed on this earth under a divine mandate that we work with God to create a new and greater world. The strangers I meet are as fully known by God as my neighbors. My enemies are as loved by God as my family.
When I look at a Missouri fan, it is important that I first recognize that they are valued by God and they are worthy of my love, respect, and assistance. It does not matter if they say Shibboleth or Sibboleth; what matters is that I have an opportunity to reflect the light of Christ into their lives.
Application:
Write down all of the people you walked by today without acknowledging their humanity (take your time, you'll be surprised how many there are).
Make a goal for one day each week, that on that day you will not let a person go by without acknowledging their value.
Reach out to an individual or group you would normally exclude and be a part of their lives for one evening.
Queries:
Who do I exclude?
Do my actions truly demonstrate that I believe all people are valuable and worthy of love, honor, and respect?
Do I actually help people? Do I only think about helping people? Do I even think about helping people?
Posted in

Bible Study, Community, Integrity, Judges, Kansas
Tagged

Bible Study, Christianity, Church, Community, Family, Integrity, Sports
Leave a comment
Ben Harper was born in Pomona, California in 1969. His father was of African-American and Cherokee ancestry, his mother was of Russian-Lithuanian Jewish ancestry. Ben's parents divorced in 1974 and he grew up with his mother and her parents. Ben's grandparents' owned a music store, The Folk Music Center and Museum, which was foundational to Ben's development as a musician. Ben began his career in earnest in the early 1990s with the LP Pleasure and Pain and has since released a dozen albums.
His most recent album, Childhood Home, is a collection of duets sung with his mother, Ellen Harper. The Harper's split the songwriting duties for the album; Ben penned 6 and Ellen the other four. The album seeks to speak to the good, bad, ugly and beautiful parts of home and family life. The lead track on the album, A House Is a Home, was written by Ben.
A House Is a Home written by Ben Harper, performed by Ben & Ellen Harper.
a house is a home even when it's dark
even when the grass is overgrown in the yard
even when the dog is too old to bark
and when you're sitting at the table trying not to starve
a house is a home
even when we've up and gone
even when you're there alone
a house is a home
a house is a home even when there's ghosts
even when you gotta run from the ones who love you most
screen door's broken paint's peeling from the wood
locals whisper when they gonna leave the neighborhood
a house is a home where the chores are never done
where you spend your whole life running to and from
and if the life that you live is not the life you choose
make your child a home and start anew
***
My grandparents' house will always be a special home to me. The house I lived in when I was in elementary school will always be a special home to me. I have no idea who lives in these places now, or if these houses even still exist; but, the memories of those places will make them a home to me until the end of my days.
Rather than focusing on the nostalgia of the home, Harper focuses the first verse on the chaos that emerges when a house is no longer subject to the care that a home receives. The home that was once comforting is now filled with darkness, overgrown grass, and a dying dog. Rather than a place of plenty, this house has become a barren place, a place of want. There is no comfort in this house; yet it is still a home.
The second verse takes this idea further. No longer is the family merely struggling with want; now they are being persecuted. First by ghosts (perhaps memories of the glory days gone by), then by family and friends who once loved them, and finally by the neighbors' gossip. What listener has not felt, or at the least imagined, a neighbor's scornful looks and raised eyebrows at the rough edges of the house which the family has not been able to care for. The high weeds, the broken down cars, the old trash bags. Yet, even when persecuted, the house is still a place of refuge. The house is a home.
The third verse speaks to the rat race of life. The never ending line of dishes and laundry and chores. The mundane tasks that take up so much of your life that it seems there is nothing left with which you can pursue your real dreams. We are all trapped in the upkeep of our houses, of our homes, and none of us seems able to live the life we want. And so we have children, and so the cycle repeats.
The chorus comes in to emphasize the cyclical nature of the home. The house becomes a home for a time, then children grow up, parents grow old, grandparents die, and the house shutters itself up into a dark void until…the cycle repeats.
It's been a busy week down on the Ashram.
The break between spring planting and summer harvesting is quickly coming to a close. Cucumbers are ready to be pickled, leeks are ready to be fried, celery is ready to frozen, tomatoes are almost ready to processed, and the sweet corn is almost ready to be enjoyed.
We spent a good chunk of this last week cleaning up the yard and garden. We have had beautiful, almost fall-like, weather which was perfect for mowing and trimming the lawns and paths. Some of the corners had grown some fairly tall weeds, so it was good to knock those down with the weed eater. I also took the time to tie up the first year grape vines to encourage their upward growth.
This has been a horrible year for Septoria Leaf Spot on our tomatoes. I usually try to run a garden totally free of all sprays and fungicides. That was not going to work this year if I wanted to have any sort of tomato crop. I have been spraying the tomatoes with two organic fungicides. The first is a microbial fungicide called Serenade. The second is a generic organic copper fungicide. The cool temperatures and low humidity of the last week seem to have also helped control the Septoria, so I hope to have a good, but not great, tomato crop.
I think the lesson for next year is to utilize some resistant hybrid varieties of tomatoes to help slow the spread of disease, rather than grow all heirloom tomatoes.
We finished harvesting the winter wheat crop. It was our first year with winter wheat, so the harvest involved a bit of trial and error. We tried pulling the wheat by hand, tried to cut the wheat with a corn knife, tried to use the weed eater (an epic failure), and tried hand clippers. Ultimately we used a hedge-trimmer to give the wheat field a haircut. We bundled several sheaves, but must of the wheat went into a giant tub to dry. We need to thresh the wheat over the next few weeks. That seems likely to be another adventure in experimentation.
After the wheat harvest, I took the flame weeder to the weeds left in the wheat field. I intend to till the field this weekend and plant our summer barley crop.
Looking forward, there are a number of things we need to get done in the next week:
Pickle our first batch of cucumbers.
Order more organic fungicide.
Install grape support wires on the trellis.
Plant the barley.
Harvest the carrot crop.
Prepare for canning season (jars, pots, food mill, etc.).
Weed and mound potatoes.
Clean the front and back porches.
Catchup on dishes and laundry.
On a final note, our outdoor cats, Joey and Emily, died last fall and this spring respectively. They were both great cats and will be missed. In their absence the bird, squirrel, and rabbit populations have exploded. So we now have two new farmhands in training. Shadow and Ghost are going to be great hunters…someday.