The Gileadites captured the fords of the Jordan opposite Ephraim. And it happened when any of the fugitives of Ephraim said, "Let me cross over," the men of Gilead would say to him, "Are you an Ephraimite?" If he said, "No," then they would say to him, "Say now, 'Shibboleth.'" But he said, "Sibboleth," for he could not pronounce it correctly. Then they seized him and slew him at the fords of the Jordan. Thus there fell at that time 42,000 of Ephraim. – Judges 12:5-6 (NASB)
***
When I was six years old my family moved within six blocks of Allen Field House on the campus of the University of Kansas. I never really had a chance of being anything but a rabid fan of the Kansas Jayhawks. You can tell a Kansas basketball fan from most other fans. There is a certain amount of pride, which borders on arrogance, which seeps into any discussion of college basketball. We know our history and take pride in the history of the Kansas basketball program. And we hate Missouri. It does not matter that Missouri has left the conference and we no longer play the program to the east, we still despise Missouri. For the historical roots of this rivalry take a moment to read about Quantrill's raid and the burning of Lawrence.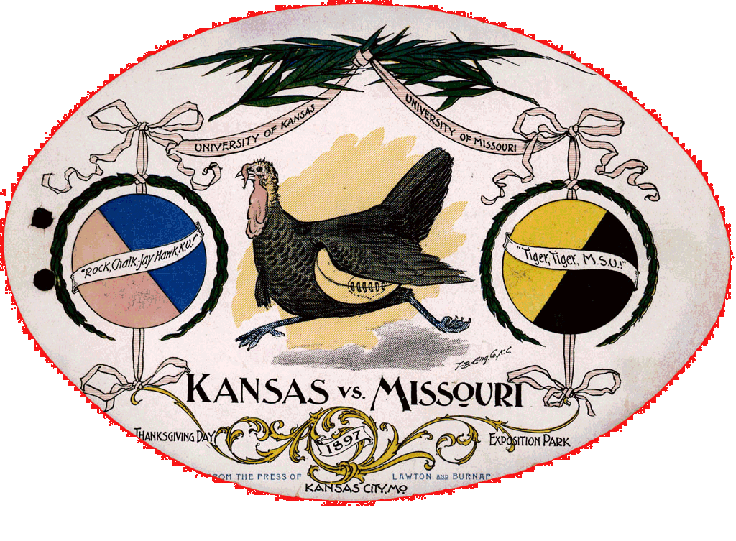 In college sports we have devised a number of systems to make sure we can separate the strangers rooting for "our" team from the strangers rooting for "their" team. Kansas fans wear blue and red, Missouri fans wear yellow and black. Kansas fans rally around our Jayhawk mascot; Missouri fans rally around their tiger. Kansas fans chant "Rock Chalk" in the closing minutes each home victory; Missouri fans have little experience in celebrating the closing minutes of a home victory. We have developed systems to know who is on our side. Whenever I see a Kansas hat or shirt at the gas station or at work, I stop and make a positive comment to my fellow Jayhawk fan.
People are very good at spotting outsiders. There is something in our brains which cause us to make a nearly instantaneous decision that a person is "one of us" or "one of them". This tendency is not limited to our college basketball affinities. In fact this tendency has a very dark side and has been a plague on humanity resulting in genocide, holocaust, enslavement, discrimination, and all sorts of evil.
Our first instinct should not be to look for an outward sign to know if a new person is to be included or excluded. Rather, our first instinct should be to care for the stranger and meet their needs regardless of their affiliation. It does not matter if the stranger I meet is a part of a different group. The thing that matters is that we were both formed by our creator and placed on this earth under a divine mandate that we work with God to create a new and greater world. The strangers I meet are as fully known by God as my neighbors. My enemies are as loved by God as my family.
When I look at a Missouri fan, it is important that I first recognize that they are valued by God and they are worthy of my love, respect, and assistance. It does not matter if they say Shibboleth or Sibboleth; what matters is that I have an opportunity to reflect the light of Christ into their lives.
Application:
Write down all of the people you walked by today without acknowledging their humanity (take your time, you'll be surprised how many there are).
Make a goal for one day each week, that on that day you will not let a person go by without acknowledging their value.
Reach out to an individual or group you would normally exclude and be a part of their lives for one evening.
Queries:
Who do I exclude?
Do my actions truly demonstrate that I believe all people are valuable and worthy of love, honor, and respect?
Do I actually help people? Do I only think about helping people? Do I even think about helping people?